Barbados: England in the Tropics
The best way to start savoring the diverse splendors of Barbados--especially if you come by cruise ship--is to step ashore at Deep Water Harbor in picturesque Bridgetown that has managed to maintain its historical character and where over a third of the island's people live. As you take a leisurely stroll along Princess Alice Highway, Pelican Village, the center for local arts and crafts will beckon you. You undoubtedly will also want to pay a visit to the 18th-century Church of St. Mary.

From there it is just a short walk to a couple of key sightseeing spots:

• The north bank of Trafalgar Square sports a statue of Admiral Nelson that predates by almost three decades the world renown Nelson Monument in London.

• A group of reconstructed neo-Gothic buildings house the oldest parliament in the Western Hemisphere. Barbados celebrated the 350th anniversary of its parliament in 1989. British tenure here has been unbroken since their landing in 1625 and granting independence in 1966.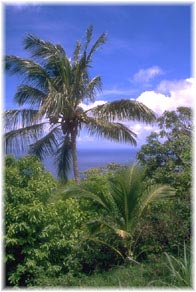 • The Barbados Museum is a historical, cultural and social treasure, not just of Barbados, but the entire Caribbean. It depicts the routes of pre-Columbian people through the region, along with rich displays of their artifacts.

For duty-free purchases Broad Street is the shopping center of the island, with department stores stocking Harris tweeds, Scottish cashmeres and English bone china. For bargains the sprightly Swan Street is hard to beat, where many newly developed trendy boutiques are aligned just across the bridge from Trafalgar Square.

Bridgetown, located on the southwest tip, is the hub from which the entire island's highway system emanates, and is a logical jumping off point to see the rest of Barbados.

It has been called "England in the tropics," with its quaint bandbox cottages, known locally as chattel houses, besides neatly trimmed gardens dotting the scenic country side and interspersed with ancient parish churches. There is even a hilly northwest district dubbed "Little Scotland." Narrow coral-paved roads meander through sugarcane fields as far as the eye can see, sculptured in hedgerows. Highway One winds along the west coast, past the remains of over two dozen forts, which made Barbados the most fortified island in the Caribbean.

On Highway Two, through the middle of the island, and less than half-an-hour from town, are three unusual attractions within a mile of each other:

Harrison's Cave is the most spectacular of Barbados' many limestone caverns. A driver and a guide in a battery-powered tram will convey you around the "Great Hall" with massive formations of stalagmites and stalactites glittering under the artificial lights. Farther down you will be whizzed by a curve exposing a shimmering waterfall toppling into an opal-colored pool.

Three quarter of a mile west of Harrison's Cave is a colossal rocky ravine turned into a lush nature preserve amply stocked with unusual flowers, trees, birds and monkeys, and quaintly dubbed Welchman's Hall Gully.

Just north is a 50-acre tropical garden called the Flower Forest, which contains breadfruit, nutmeg, Barbados wild cherry, golden apple, soursop, guava and other unusual plants. A refreshing sample of the exotic fruit drinks awaits you at a small bar close to the entrance.

Finally, Highway Five leads to Sam Lord's Castle, who reputedly acquired his immense wealth by luring ships into what appeared like a safe harbor, only to plunder them when they wrecked on the tricky shoals.

Given the island's rich historical and cultural heritage, getting to know the local people on a personal level can be particularly rewarding. One way to do this is to explore the island as if you were considering it for permanent residence. Visualize what it would be like to live here the year-round. What would you want to ask the people you meet? What would be the positive as well as the negative aspects? In the favorite column undoubtedly would be a lot of the denizens who are friendly, gracious and carry themselves with style and aplomb. But could you get use to the more relaxed, slower pace of life?

Barbados is distinct in a number of other ways. It is the only coral and limestone island in the Caribbean surrounded by volcanic origin neighbors. Most of the accommodations are located on the calmer, sandy western shoreline, while the more turbulent eastern coast, facing the Atlantic, is favored by for experienced surfers. It is the most densely populated Caribbean nation with a quarter of a million people inhabiting the 21 by 14 mile isle.

The best way to get to Barbados from the U.S. is by way of American Airlines – Quality from the Ground Up, as they like to refer to themselves. And I certainly can attest to that from by experience with them.

Al Louis Ripskis, Editor
Impact Journal
Copyright © 2008 Al Louis Ripskis. All Rights Reserved.

Designed by SerenityMedia.co.uk