The A, B, C's for

Beating the Air Travel Gridlock
You've seen the TV news clips: thieves caught red-handed on video cameras methodically looting airline check-in baggage. That's just one of many reasons for flying with only a carry-on. Some of us have personally experienced it, many others have heard horror stories about ruined business trips and vacations due to missent or lost airline check-in luggage.

When I was doing research for my Cutting Loose book in Tobago, I listened to a heart-wrenching tale from a grandmother and her grandson, about how their airline lost all five pieces of their luggage. They were on vacation in Tobago, trying to escape Canada's bitter January cold. They were desperately hoping the luggage would be retrieved before their brief vacation was over. Meanwhile they were scrambling to buy essentials in a place where shopping is confined to small roadside stands.

You can't beat the flexibility of carry-on only travel. If your flight is canceled or delayed, you can be the first on the phone arranging alternate transportation. You don't have to worry about how long it will take to retrieve your check-ins, assuming they haven't already been shipped out on another flight to Bora Bora.

Then there is the problem of damage. Recently, while waiting for a connecting flight, I watched two airport baggage handlers unloading luggage: they appeared to be competing with each other to see how high they could toss the suitcases in the air before landing them with explosive thuds on their cart.

Finally, travel, even at its best, can be fatiguing. Why compound this problem by lugging a suitcase or two? Make sure that your luggage has a good set of wheels.

Once, due to unusual circumstances, I broke my own rule about carry-on-only travel. I lived to regret it. I wound up cutting my vacation short because I got fed up with carting the two heavy bags around.

Some will say, "Carry-on only travel may be fine for men, but what about us women who have to bring extra things along?" Recently Judith Gilford, travel writer, demonstrated on network television how to pack three outfits for a two-week stay in a regulation 45-inch carry-on, using the bundling technique—which she outlines in her book, appropriately called, The Packing Book (Ten Speed Press).

Although the focus here is carry-on only travel, don't despair if you need to bring more things than the largest carry-on can accommodate. You just put the essentials in the carry-on and check in the rest. Then, if your check-in baggage is lost, misshipped or looted, it won't ruin your trip.

Today shopping for the right luggage can be a time-consuming exercise, considering the vast number of well-designed, wheeled carry-ons on the market. It is a far cry from fifteen years ago when I couldn't find any, and had to have the wheels specially mounted.

Also, given the vast distances you have to travel within airports these days, wheeled luggage, whether it is carry-on or not, is definitely the way to go.

Basically there are two distinct styles of wheeled luggage: those with four wheels that you pull, usually with a leash or a handle; the others have retractable handles and two wheels, rolling like handtrucks. I have tested both, and the latter is much easier to control.

The next time you're in an airport terminal, watch the kind of luggage the traveling pros like pilots and flight attendants use: you'll see that it is predominantly the telescoping-handle, two-wheel variety.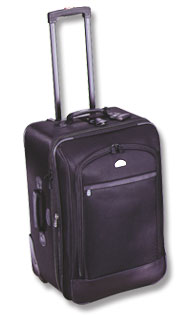 Your best carry-on is light and within the size the airlines permit (combined exterior dimensions adding up to no more than 45 inches: 22 inches long, 14 inches wide, and 9 inches thick). You definitely need durable wheels that won't wear out fast or come off the first time you hit the curb hard.

The winner of Impact Journal Press Outstanding Product Award is the Boyt's Expandable Glider carry-on. It's made of light DuPont Cordura Nylon fabric that's highly resistant to scuffs and abrasions. The Boyt's 22" Expandable Glider has large exterior pockets, making it more convenient to retrieve items you may need in transit—instead of having to unzip and rummage through the main compartment.

Beware of other, cheaper carry-ons that don't have the two wheels at least eight inches apart. They are very unstable and wobble terribly when you attempt to pull them.

Another thing for beating the air travel blues: bring along a notebook computer which can serve as your travel office to keep you productively engaged as well as be your entertainment center while you're in the midst of those interminable delays that seem to be an inescapable part of todays air travel. From practical experience I found out that the notebook for Carry-On Travel should weigh about four pounds and have the dimensions not much larger than 1.2" x 10.5" x 9.5."

Choose the best airlines for your travel. Check them out at Skytrax

and OAG for world-wide airlines; and Airline Quality Rating for U.S. Airlines.

Finally, before you go to the airport have a Plan B, just in case your scheduled flight gets cancelled or delayed. And of course you can easily do that through Expedia, Obitz or any number of other programs.

Al Louis Ripskis
Lifestyle Expert/Editor
Impact Journal Press
Copyright © 2008 Al Louis Ripskis. All Rights Reserved.

Designed by SerenityMedia.co.uk